Yorkshire's Tour de France festival awarded £1m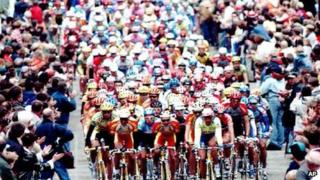 A 100-day festival leading up to the Yorkshire leg of the Tour de France has been awarded £1m by the Arts Council.
The Arts and Cultural Festival would help "put Yorkshire on the map" in the months before the 2014 Grand Depart, Welcome to Yorkshire said.
The tourism body said it hoped to secure a further £1m in funding from the private sector.
The festival will begin at the end of March ahead of the start of the Tour at Leeds Town Hall on 5 July.
'Very excited'
Cluny Macpherson, regional director of Arts Council England, said: "It will showcase all that is great about Yorkshire arts and culture as well as providing an opportunity for specially commissioned work.
"Building excitement across the region in the run-up to the Tour de France, I can't think of a better way to mark the historic occasion of the Grand Depart taking place in Yorkshire."
Welcome to Yorkshire chief executive Gary Verity said: "It's the first time in the 110-year history of the Tour de France that this is taking place, so our colleagues in France are very excited by this."
The organisation said the festival could include productions like last year's Cycle Song, a community opera inspired by a former steel worker from Scunthorpe.