Marble statue of Pomona stolen from Sissinghurst
28 May 2013

From the section

England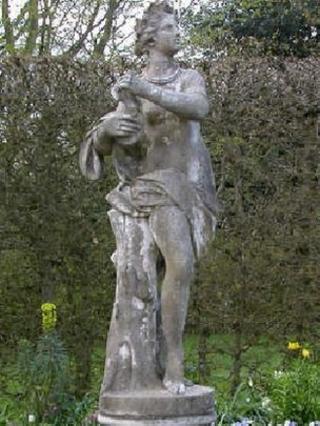 A marble statue of the Roman goddess of fruit and plenty has been stolen from the world-famous garden at Sissinghurst Castle in Kent.
The statue of Pomona is believed to have been taken overnight on Sunday from the garden near Cranbrook.
It is believed the thieves also tried to remove a number of urns, two of which were badly damaged.
The National Trust, which owns the garden, said the statue was historically significant.
Sissinghurst, which was created by writer Vita Sackville-West and her husband, Harold Nicholson, is currently celebrating the 75th anniversary of being opened to the public.
The statue of Pomona was part of the donation of Sissinghurst to the National Trust by the couple's son Nigel in 1967.
The 4ft 2in figure is depicted leaning on a tree stump holding cymbals and is mounted on a cylindrical pillar.
Spokeswoman Michelle Cleverley said she could not give a value of the statue for security reasons.
"The statue is certainly of historical importance," she said.
"It's been there a long time and we would like it back."
Ch Insp Nicola Faulconbridge, of Kent Police, said: "Members of the public come from near and far to visit Sissinghurst Castle.
"I hope that anyone with any information will get in contact and help us identify the suspects and return the property."