South Crofty mining 'will not affect' World Heritage Site status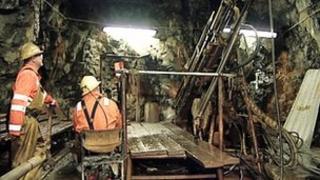 South Crofty will retain its World Heritage Site status if mining resumes, Cornwall Council believes.
The United Nations' Educational, Scientific and Cultural Organization (Unesco) has said work should be stopped at the site near Camborne.
It said it was not properly consulted before planning consent was granted and it could remove the site's status if the row was not resolved.
The council granted planning permission in late 2011.
It said mining at the Cornwall and West Devon Mining World Heritage Site would be carrying on the area's history.
South Crofty mine originally closed in 1998 after the price of tin hit an all-time low.
Unesco granted the heritage status in July 2006, saying the "substantial remains are a testimony to the contribution Cornwall and West Devon made to the Industrial Revolution in the rest of Britain and to the fundamental influence the area had on the mining world at large".
However, for the past few years the price of tin has been rising and Crofty's current Canadian owner, the Celeste Copper Corporation (CCC), wants to resume mining.
The company said it planned to extract tin and other metals, including zinc and copper, with the hope of creating at least 220 jobs.
'No physical impact'
The council's heritage officer, Simon Thorpe said if mining restarted, it would benefit the area and the Unesco status.
"It gained the status because of that history of mining in Cornwall," he said.
"Although the period of interest ends with the decline of mining in Cornwall at around 1914, restarting mining would be a continuation of that history.
"There's no physical impact from resuming mining."
Unesco's World Heritage List includes 962 properties around the world which are considered as having "outstanding universal value".
A heritage de-listing has only happened twice before, in Oman and Germany.
Unesco said its World Heritage Committee was to examine reports on Crofty in June.