Wales 'to get more first-time tourists' than South West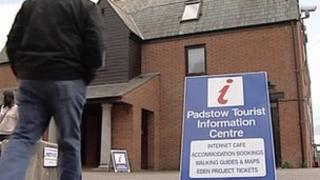 Potential first-time tourists are more likely to visit Wales than south-west England, the European Union's statistics office says.
Recent figures from Eurostat put Wales at the top of a league table of European maritime regions, ranked according to annual growth of tourism.
Welsh tourism grew by more than 10% a year between 2002 and 2011.
The same league table had Cornwall at the bottom, with tourism shrinking 5% a year on average during the same period.
Devon was near the bottom and saw tourism shrink by 2% a year on average.
'Customer loyalty'
As the South West's tourist industry heads towards its peak summer season, the region needs to reverse a long-term decline in first-time visitors, tourism leaders say.
The region has a large and very loyal customer base, but, when it comes to attracting first-time visitors, the South West seems to have been left standing by Wales.
Malcolm Bell of Visit Cornwall said: "To a significant degree we're similar to, say, Marks & Spencer 10 years ago, which had very strong customer loyalty but wasn't attracting enough new customers.
"We've got to be careful that we don't wander into that ground."
The industry in Devon claims to be doing relatively well compared with the rest of the South West.
The last year full figures are available for is 2011, which saw a rise in visitor trips to Devon, although the average trip length was shorter.
In 2012, the Olympics were just one more reason for people to stay home, on top of the weather and the economy.
Carolyn Custerson, from the English Riviera Tourism Company, said she was encouraged that this year there were reportedly more visitors in Devon from countries such as Brazil, China and Japan.
"Hopefully we're finally beginning to see some pay-back from the Olympics," she said.