Newcastle's Freeman hospital gets second robot surgeon
1 July 2013

From the section

England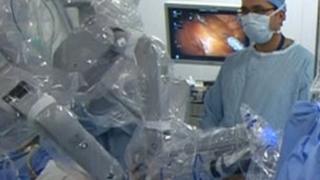 A Newcastle hospital is to invest in a second robot surgeon to carry out less invasive operations.
Da Vinci, the £2m robot surgeon has been operating on patients at the Freeman Hospital for a year.
Newcastle Hospital Foundation Trust bosses said complications and recovery times for "hard to get at" throat and neck cancer tumours have been reduced.
Now they are to buy a second robot, which will perform less invasive chest, abdomen and heart surgery.
The surgeon uses joysticks to work the tiny robotic arms, and the machine adjusts itself to compensate for the natural tremor in the human hand.
The operating blades are controlled remotely using a 3D microscope, and make smaller more precise incisions.
'Quantum leap'
Da Vinci has been used by head and neck surgery Vinidh Paleri and David Meikle for Newcastle Hospital Foundation NHS Trust.
Mr Paleri said previously reaching and removing throat and neck tumours was very difficult and traumatic.
He said: "It involved cutting patients' throats from ear to ear and splitting their jaws.
"Now surgery is more precise - it is a quantum leap in my opinion in terms of access and the ability to see the tumour in three dimensions.
"We can take the tumour out much more quickly - in 20 minutes to an hour compared to other surgery which can take between three and 12 hours."
Frank Jackson, 67, of Walker, Newcastle, was diagnosed with throat cancer in March and within a week was undergoing robotic surgery.
His only symptoms were losing his voice periodically and difficulty swallowing, but no pain.
The retired school caretaker, who is married to Ella, 67, and has two children, three grandchildren and a great granddaughter Darcy, one, said: "There wasn't time to get nervous it was all so quick.
"I had my first operation to clean up my voice box and two months later I had another."
He had part of his tongue removed and is currently undergoing daily radiation therapy.
He added: "The team was helpful, and talked me through everything - they really put me at ease."