West Midlands A&E 'may not be safe' warn managers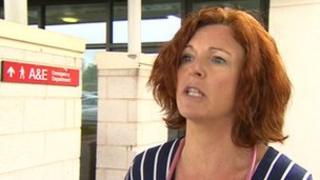 Patient safety cannot be guaranteed in West Midlands accident and emergency departments, NHS chiefs have warned.
Leaders of 18 of the 21 A&E departments in the region have sent a letter to clinical commissioning groups and acute trusts raising serious concerns.
The letter, initially leaked to the Independent, blames "institutional exhaustion" and "toxic overcrowding".
It said the "crisis" was "particularly and intensely felt throughout the West Midlands and surrounding region".
'Margins of safety'
Lord Philip Hunt, chairman of the Heart of England Hospital Trust, said Birmingham A&E departments felt "great pressure".
"The health service has got to take this seriously," he said.
He said his trust was currently reviewing staff levels to ensure peaks in patient demand could be managed.
"I believe patients are as safe as they can be but the system has come under great pressure," he said.
"There's no doubt that the more pressurised the system is there will be issues concerning patient safety that we have to look at very carefully."
'Profound distress'
The West Midlands warning comes as Mike Farrar, the NHS Confederation chief executive, warned that nationally A&E was on a "cliff edge".
The Care Quality Commission has already said it believes the rise in demand for A&E is unsustainable, while NHS England is carrying out a review of the problems.
The letter describes how staff are "frequently operating at the absolute margins of clinical safety".
It adds: "The position is such that we can no longer guarantee the provision of safe and high quality medical and nursing care... We reiterate our profound distress with the state of [emergency departments] in the region."
Dr Bernadette Garrihy, from the Royal College of Emergency Medicine, signed the letter. She said: "Staff are already propping up the system by heroic work.
"Some of the people that I work with are the finest, most dedicated, hard-working people you will meet, but everybody reaches a breaking point.
"I can see people leaving en masse for more attractive careers or retiring early just because they can't take on this burden of work anymore.
'Extremely concerning development'
"That's going to make the problem even worse and ultimately it's the patients who come through our doors expecting and looking for quality emergency care who're going to suffer."
In a statement, health minister Lord Howe said the reasons for current pressures on A&E were "complex".
He said: "NHS England is freeing up cash to help ease the immediate pressures.
"But long term we need to look at how the NHS works as a whole, how it works with other areas such as social care and how it deals with an ageing population and more people with long-term conditions."
The statement also said reforms meant doctors and local clinical experts could now provide additional health services to reduce A&E attendance.
Katherine Murphy, CEO of the Patients Association, said the letter was an "extremely concerning development" that highlights the strain A&E services are under.
She said she wanted an end to "the use of our NHS as a political tool" and urged parties to put political divisions aside and put patients and their dignity first.