'Surrey solution' needed for Epsom Hospital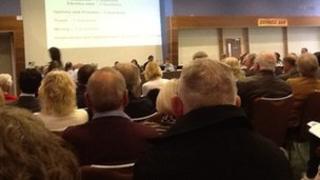 Campaigners opposed to changes that could leave Epsom Hospital without A&E and maternity departments have called for a "Surrey solution" to its future.
Epsom is one of five hospitals being reorganised under the Better Services Better Value (BSBV) NHS review. The other four are in south-west London.
All three options published earlier this month see Epsom becoming a local hospital without A&E and maternity.
BSBV has said the review is aimed at improving hospital care.
Epsom was only included in BSBV in January after a potential merger with Ashford and St Peter's Hospital was halted.
'Difficulty recruiting staff'
"All those who are motivated to defend this hospital are looking for a Surrey answer," said councillor George Crawford, chairman of Epsom and Ewell Borough Council's health liaison panel.
"From the information I am receiving, things are happening now like loss of staff at (Epsom) Hospital.
"They are having incredible difficulty in recruiting staff and by default we may find ourselves in a situation where Epsom Hospital runs down before any decisions are actually made."
The review, led by local doctors, nurses and health professionals is looking at Epsom, St Helier in Sutton, St George's in Tooting, Croydon and Kingston hospitals.
St Georges and Kingston will remain as major acute hospitals along with either Croydon or St Helier.
About 500 members of the public attended a meeting on Friday at Epsom Downs Racecourse where Surrey Downs Clinical Commissioning Group (SCCG) agreed the plans in principle.
The seven CCG boards affected will hold a joint meeting in June to decide whether the plans should go to a public consultation.
BSBV is looking at a range of challenges facing hospitals including financial pressures, more people living with long term conditions and a shortage of senior doctors available round the clock in some vital services.
"If we go out to public consultation that will give all of our population the opportunity to have their voices heard," said SCCG chair Dr Claire Fuller.
"We cover 290,000 people.
"I know there were many people (at the meeting) but we have a lot of groups of population that are very hard to reach - 10% of our population are carers and we have a large commuter population.
"We need to make sure we get all of those voices heard not just those people who shout the loudest."