'Sick' driver impaled man on Bedford railings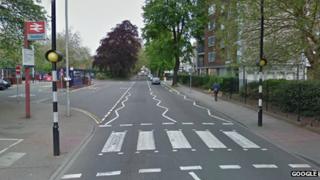 A diabetic man with "very low" blood sugar who lost control of his car and sent a pedestrian on to railings has been jailed for six months.
Darren Lock, 41, of Rushden, Northamptonshire, "drifted into hypoglycaemia" while driving in Bedford, Luton Crown Court heard.
William Dawkins suffered a punctured lung, a burst artery and two broken neck vertebrae in June last year.
Lock admitted dangerous driving and was also banned for three years.
The court heard IT consultant Lock, of Higham Road, was driving home from Bedford railway station at about 22:30 BST on 28 June, after working in London.
Bumper dragging
Prosecutor Kevin Barry said the father-of-two had had his blood tested by a nurse that morning but had given her false information about his blood sugar levels.
Despite knowing his levels were low, Lock drove out of the railway station car park and hit a lamp-post at a pedestrian crossing, the court heard.
He also clipped the wing mirror of a Peugeot and drove with his front bumper dragging along the road.
"As the car went into Bromham Road he caused another driver to swerve," said Mr Barry.
"Then he collided with Mr Dawkins, sending him into the railings on the pavement."
Mr Dawkins, 46, who also suffered a broken leg and arm, spent a week in intensive care.
The court heard Lock's blood sugar level was tested after the crash and found to be very low, but the DVLA had no record of his condition.