Brittany Ferries refuses to let pregnant woman board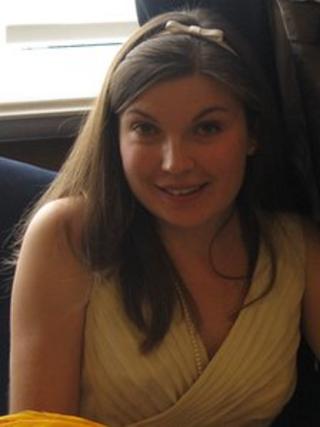 A heavily pregnant British woman was left with an "extremely stressful" journey back to the UK after a ferry company refused to allow her on board.
Katie Kissack, 32, was booked on Brittany Ferries' Roscoff to Plymouth sailing on Sunday with her parents and three-year-old daughter.
Mrs Kissack, who is 34 weeks pregnant, was told women over 32 weeks were not permitted to travel.
The company said it had "every sympathy" but its rules were clear.
Mrs Kissack was told 60 minutes before departure that she would not be allowed on board and got a taxi to a nearby town where she spent the night in a hotel.
'Intransigent approach'
She has started the journey back to her parents' home in Cornwall by train, accompanied by her mother and daughter.
Mrs Kissack told BBC News: "I am aware that my husband and I made an error in not noticing the 32-week limit when we booked.
"Having said that, the booking was made a long time ago. I consider myself to be in good health and so did not go into the special requirements area where we may have seen it.
"The journey so far has been long, tiring and extremely stressful.
"The risk of deep vein thrombosis due to a long seated [train] journey and rocketing costs are doing nothing to reduce the stress.
"This compared to what would have been a short and comfortable journey seems a high price to pay for Brittany Ferries' intransigent approach."
Mrs Kissack, who lives in Barcelona with her husband, was travelling back to the UK to have her second child.
She had arranged to meet her parents in Roscoff after making the two-day journey up from Spain by car.
Her father, John Tisdale, a recently retired GP from Probus near Truro, said he offered to take responsibility for her health during the crossing.
However, the captain refused the request.
'Morally wrong'
Dr Tisdale, who decided to board the ferry to bring his daughter's dog and car back to the UK, said she was "very tearful and upset".
He said he felt Brittany Ferries' attitude was "morally wrong" and that concern for the stress it would cause his daughter "should have taken precedence over company policy".
Stephen Tuckwell, from Brittany Ferries, said: "The captain's decision is final and while we have every sympathy and understand the father's frustration, the fact that he's a doctor does not give him the right to overrule the captain.
"He doesn't have responsibility for the safety of passengers - the captain does - and the rules are there in black and white."
Brittany Ferries is not the only ferry company to impose restrictions regarding pregnancy.
DFDS and LD Lines require women who are more than 28 weeks pregnant to produce a medical certificate stating they are fit to travel.
At P&O women travelling on short trips who are more than 38 weeks pregnant must produce a certificate. Stena Lines has no upper limit.