Olympic torch relay 'generated millions' for Cornwall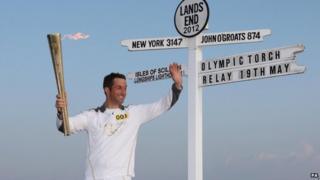 Hosting the start of the Olympic torch relay last year cost about £120,000, but generated nearly £4m for the local economy, Cornwall Council has said.
About 100,000 people turned out to watch Olympic sailing hero Ben Ainslie set off with the torch from Land's End.
With an estimated billion people watching, the council said the media coverage "equated to a public relations value in excess of £17m".
Plymouth, Torbay and Devon councils also spent a total of £120,000.
Plymouth City Council said it spent nearly £99,000, Torbay spent about £11,000 and Devon County Council said its costs were £10,000.
'Unique opportunity'
The 70-day relay, which set of on 19 May 2012, covered 8,000 miles and involved 8,000 runners, finishing in London on 27 July with the lighting of the Olympic flame.
Cornwall Council said the Duchy had been "extremely lucky" to be chosen to host the arrival of the Olympic flame into the UK from Greece and start the relay.
"This provided a unique opportunity to showcase what Cornwall has to offer to a national audience and, indeed, across Europe and worldwide," a spokesperson said.
According to figures obtained by the Press Association under the Freedom of Information Act, local authorities in England paid an average of about £40,000 to host the torch.