Police Lotus helps Devon and Cornwall road safety work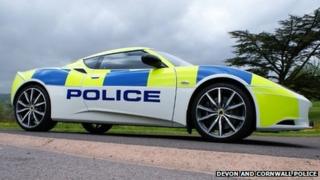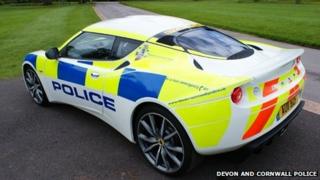 A £50,000 sports car decked out in police livery is being used by officers in Devon and Cornwall to raise road safety awareness over the summer.
The Lotus Evora had already allowed officers to chat with people who might otherwise not otherwise talk to them, Devon and Cornwall Police said.
However, it was not an operational police car, and was not involved in high speed chases, the force said.
The car has been lent to the police by its manufacturer for free.
It is appearing at motoring events across both counties, including Newquay's Run To The Sun, from 24-27 May, before going back to Lotus.
Sgt Owen Messenger said responses to the car at several events so far had "been overwhelming".
He said: "People literally flock to it. It's a stunning looking car and with the police badges, it's very unusual.
"Understandably we get a lot of interest from younger drivers and those with an interest in performance cars and that gives us the chance to talk with them over issues of road safety."