Bromsgrove man paralysed 'after missed checks'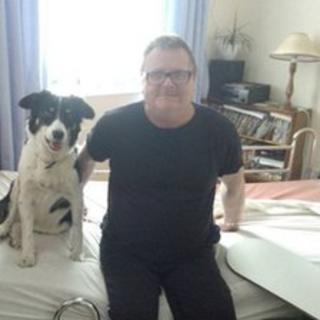 A man was left paralysed because doctors did not monitor him correctly after hip surgery, lawyers said.
Stephen Onley, 52, from Bromsgrove, Worcestershire, had an epidural in 2010 at The Royal Orthopaedic Hospital and had complications, Irwin Mitchell said.
The lawyers added the trust admitted responsibility for spinal damage, which paves the way for a settlement.
The Birmingham trust apologised and said it admitted liability over some aspects of managing his complications.
Irwin Mitchell stated Mr Onley, a social worker who cared for people with spinal injuries, said he asked not to have an epidural to control pain, as he was aware of a risk linked to this type of anaesthetic through working with disabled people.
'Dangerously low'
But he was given one during treatment in December 2010 and suffered complications resulting in a lack of blood to the spine, it added.
Irwin Mitchell said although medics would have been well aware a spinal epidural could cause someone's blood pressure to drop after an operation, routine checks were missed and his blood pressure fell "dangerously low".
Mr Onley was left paralysed from the waist down, had to give up his job and relies on a wheelchair, it added.
"In the end I gave in to having the epidural because they said they wouldn't go ahead with this procedure without having an epidural," Mr Onley said.
"I can't get up the stairs at home... I'm not able to do things like the washing up any more. The sink's too high for me to reach in to."
Irwin Mitchell said the trust admitted full responsibility for irreversible spinal damage, which occurred as a result of failing to correctly monitor him, and a perforated bowel, which he suffered due to inadequate care after becoming paralysed.
Trust acting chief executive Graham Bragg said it was "sorry for the complications Mr Onley experienced" following his surgery.
He added: "A number of allegations have been made regarding his treatment.
"We have admitted liability regarding some aspects of the management of the complications Mr Onley experienced and apologised to him unreservedly in September 2012.
"We are committed to providing an excellent service and continually recognise the need to learn from our failings to improve the service we provide to all patients."
Tim Deeming, a medical law expert at Irwin Mitchell, said it would work with the trust "to provide Stephen with the financial support he requires to pay for the special equipment, care and rehabilitation needed".