East of England Ambulances: New chief on £98k salary
16 May 2013

From the section

England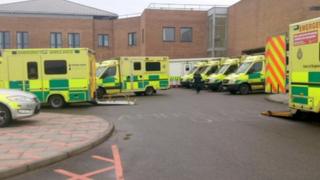 An ambulance trust criticised for poor response times has hired a private company chief to boost its performance.
Rob Ashford resigned from the private Thames Ambulance Group to join East of England Ambulance Service (EEAST).
Mr Ashford, 44, will be responsible for running the service in Essex, on a salary of up to £98,000.
Health Minister Norman Lamb, the North Norfolk Liberal Democrat MP, said he was surprised the job had been created.
Mr Ashford has experience of ambulance service operations in the private sector and with the NHS in the West Midlands and the east of England.
He was with the Italian-owned Thames Ambulance Group for four years as chief executive.
'Monitor service'
The company said Mr Ashford had severed all financial ties with them.
EEAST said Mr Ashford would be responsible for running the 999 ambulance service in Essex. His role would include hiring private firms to meet peak demands when required.
Mr Lamb said he was closely monitoring the service following complaints by residents and patients in his north Norfolk constituency.
He said he was "surprised" the new post had been created but did not foresee a conflict of interest in the role.
"If Mr Ashford has severed his links with Thames then it should be clear what is a conflict of interest and he should avoid it," he said.
"I am going to continue to monitor the service closely."