Cumbria County Council approves coalition deal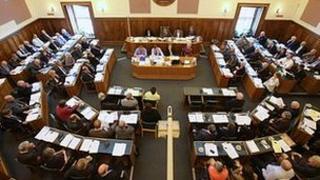 A new administration has been approved to run Cumbria County Council for the next four years.
The local elections produced no overall majority and, after negotiations, a coalition was formed between Labour and the Liberal Democrats.
Councillors approved the move at their first full meeting.
They also confirmed the interim appointment of Diane Wood as acting chief executive following the early retirement of Jill Stannard.
Under the new arrangements, there will be a Labour leader and the party will hold six cabinet posts.
The Liberal Democrats will have the remaining four, as well as the deputy leader post.
The council said: "The partnership has agreed a set of overarching principles to drive forward the work of the council, the delivery of services and the way local people are involved and engaged."