Jail for violent robbery at brothers' Langford farm
16 May 2013

From the section

England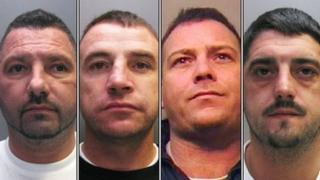 Violent robbers who threatened to kill two brothers during a raid at their isolated farmhouse in Bedfordshire have been jailed.
Edward and George Heathcote, aged 75 and 68, were terrorised two days after they raised £113,000 in an auction of farm machinery.
Luton Crown Court heard up to five men burst into Hill Farm, Langford, on 21 October last year.
The four men were each jailed for 13-and-a-half years on Wednesday.
Joseph Upton, 39, of Murrow Lane, Parsons Drove, Wisbech, Cambridgeshire, had admitted to conspiracy to commit robbery.
'Want your thousands'
John Smith, 38, of Small Lode, in Upwell, Cambridgeshire; Albert Smith, 37, of Common Road, in Potton, Bedfordshire, and Alfred Stanley, 35, of Sandon Close, in Sandy, Bedfordshire, all admitted two counts of robbery.
The court heard the brothers' sale on 19 October had attracted 400 people but prosecutor Will Noble said he could not tell if the robbers were present.
Two days later, the Heathcotes were yet to receive the proceeds and were watching television when four or five men in balaclavas forced their way in, the court heard.
Edward was hit on the head with a scaffold pole and taken upstairs while bleeding profusely, the court heard.
One robber said: "We want your guns. We want your thousands of pounds."
The bedroom was ransacked and six guns, ammunition, £1,000 in old English bank notes and a walking stick were taken, as another of the men stood over George downstairs.
As the gang left, they again threatened to burn the house down and set off a bird scarer detonator in the house, which was filled with smoke.
'Considerable psychological trauma'
The brothers no longer feel safe in their home, which they had shared since 1949, the court was told.
When the alarm was raised, police followed the robbers' stolen Audi A6 at speed into Cambridgeshire.
The car stopped for just nine seconds in Fen Drayton, where the guns, ammunition and walking stick were dumped, the court heard.
It was then crashed and was abandoned in the village of Over, with three men arrested later that night.
Sentencing, Judge Stuart Bridge said: "It was a pre-meditated, cynical, violent and cowardly robbery at a remote farmhouse.
"You terrified your victims.
"Both have suffered considerable psychological trauma."