Cambridgeshire motorist jailed over B1040 crash deaths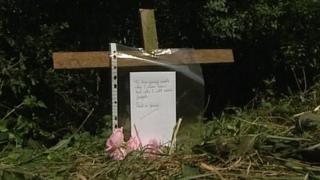 A man has been jailed for four years for causing the deaths of two people in a car crash in Cambridgeshire.
Attila Kubanda, 28, and Katalin Bedo, 31, both of Wolfe Crescent, in Southwark, south-east London, died on the B1040 near St Ives last July.
Benjamin McDonald, 23, of Oilmills Road, Ramsey Mereside, pleaded guilty to causing death by dangerous driving at Peterborough Crown Court.
Nine other people were hurt in the crash.
McDonald, the driver of a Nissan 200SX, attempted a "dangerous overtaking manoeuvre at more than 100mph" near Bridge Farm, on Somersham Road on the evening of July 27, police said.
'Showing off'
He had been trying to overtake a friend's vehicle on the brow of a hill when he smashed head-on into a Toyota Celica travelling in the other direction.
The impact caused McDonald's car to roll across the carriageway into a Mazda 3TS, killing the driver and passenger.
At the time of the crash, Phil Speight, who lives close by, said: "There was a great big thud.
"It was quite a horrific scene because the debris was all over the place - probably about 300 or 400 metres down the road."
He said a number of people had died in crashes on the road in the 30 years he had lived there.
PC Pete Bimson from Cambridgeshire Police, speaking after the court case on Thursday, said: "McDonald was driving at dangerous speeds and showing off in his modified car.
"He attempted to overtake on a blind brow of a hill and had to cross a solid white line to do so.
"His actions on that day did not just affect the lives of the two people he killed, and their friends and family, but it will also have a profound effect on his own life.
"He will have to live with what he has done."
McDonald was also disqualified from driving for three years.