Bishop of Chichester: Church safeguarding 'must be clear'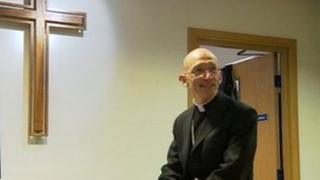 Church procedures over safeguarding children must provide "adequate and clear evidence of accountability", the Bishop of Chichester said.
Dr Martin Warner issued a statement after the case was dismissed against a retired bishop who faced disciplinary proceedings over alleged child protection failings.
The complaints were against the Right Reverend Wallace Benn.
The former Bishop of Lewes has said no misconduct had been established.
Bishop Benn was accused by the diocese safeguarding advisory group under Clergy Discipline Measures (CDM) of failing to tell police about paedophile priest Robert Coles, who was jailed in February for sexually abusing three boys aged from 10 to 16.
'Commitment to transparency'
It was said in court Coles told senior clergy, including Bishop Benn, he had abused one of the children but the information was not passed on to the police.
Bishop Benn subsequently insisted there was no ineptitude or cover-up on his part.
The statement issued by Bishop Warner said the complaints against Bishop Benn related to a difficult and unusual case.
He said: "The motivation for pursuing it was to indicate to survivors and their families complete commitment to a thorough and transparent investigation.
"The Church's procedures must be seen as providing adequate and clear evidence of accountability in safeguarding matters."
He added he hoped lessons learnt in Chichester would influence a national review of the CDM system to ensure the adequacy of procedures in providing reassurance to victims and the public that accountability was in place.