Brighton footballers 'were having a laugh', jury told
15 May 2013

From the section

England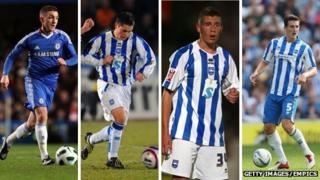 A Brighton and Hove Albion footballer has told a jury he and his team-mates were simply "having a laugh" when they took photos of an unconscious teenager in a hotel room.
George Barker admitted exposing himself next to the 19-year-old woman.
But he told the Old Bailey jury there was nothing sexual about his behaviour.
The 21-year-old denies sexual assault, along with Anton Rodgers, 20, Lewis Dunk, 21, and Steve Cook, 22.
Mr Rodgers, Mr Barker and Mr Cook also deny voyeurism.
Mr Dunk was cleared of that charge at an earlier trial.
The court heard the defendants had been drinking after winning the Sussex Cup in July 2011.
They ended up at their hotel, in the same room as the alleged victim.
Mr Barker said she had been awake, giggling and kissing them. But when she went to sleep they took photos of her, including ones of him and Mr Rodgers exposing themselves next to her, the court heard.
Mark Cotter, defending Mr Barker, asked his client what the purpose of taking the photos was.
Mr Barker replied: "Everyone was drunk. Everyone thought it was hilarious at the time. Obviously it's not so funny now."
He said he did not consider there to be anything sexual about the photos, and denied assaulting the woman.
Richard Barton, prosecuting, put it to Mr Barker that much stronger sexual images had been taken that night, all while the 19-year-old slept.
He alleged all four defendants had sexually assaulted her, encouraging each other and believing that as professional footballers they could do what they wanted.
Mr Barker replied: "No. That wasn't the case."
The case continues.