Gordon Rideout child sex abuse victims not believed
20 May 2013

From the section

England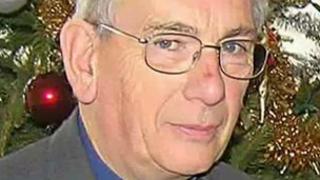 Disgraced clergyman Canon Gordon Rideout was a serial sex offender who preyed on young children across the south of England - but he could have been stopped more than 40 years ago.
Rideout, now 74, was jailed for 10 years at Lewes Crown Court after being convicted of two attempted rapes and 34 indecent assaults on 16 boys and girls in Hampshire and Sussex in the 1960s and 1970s.
The jury heard many of his victims were too afraid to report his behaviour for fear of being beaten.
And he was one of several priests to whose alleged misdeeds the Church of England turned a blind eye.
In the 1970s he got as far as court but was cleared by a military hearing of allegations of indecent assault relating to his time as forces chaplain at St Michael's Church on a military base in Middle Wallop, Hampshire.
'Beaten for complaining'
And during his trial in Lewes, the prosecution said the reason the child victims did not make complaints at the time of the offences was that "a child's word was not believed".
Philip Bennetts QC said: "Indeed, on the occasion that a young child was brave enough to complain, you'll hear that they were beaten."
During the trial Rideout's defence team suggested victims had lied and were motivated by compensation or revenge, or that they had got the wrong person.
The majority of the 36 charges, which cover a period between between 1962 and 1973, relate to offences at the now-demolished Barnardo's children's home, Ifield Hall, in Crawley, when he was an assistant curate at nearby St Mary's Church, Southgate.
Church 'arrogance'
But even after the court martial in 1972 and a police investigation into Rideout in 2001, he continued to be employed by the Church.
He was chaplain at Moira House School, Eastbourne, until 2003, chairman of governors at St Mary's special school in Bexhill until 2009 and at Bishop Bell C of E School in Eastbourne until November 2011.
Matt Dunkley, director of children's services at East Sussex County Council, told the BBC: "It was a significant amount of arrogance on behalf of some members of the Church of England - almost that these things couldn't be true about someone of standing in the Church."
Yet when police started reinvestigating the complaints in 2011 and 2012, the lid was lifted on a catalogue of child abuse by a man in a position of trust.
The police investigation followed a confidential review by Dame Elizabeth Butler-Sloss into historical allegations of sexual abuse by Church of England priests against young people in Sussex and elsewhere.
As well as offences at Ifield Hall, Rideout also abused children in Middle Wallop.
The Bishop of Chichester, the Rt Rev Dr Martin Warner, who admitted to a victim of another sexual abuser that there had been a cover-up in his case, told the BBC: "I don't think we can say this is a cover-up.
Missed opportunities
"The advice that came back from the [earlier] police investigation did not give the grounds for suspending Gordon Rideout at that stage."
Mr Dunkley said: "I think there were significantly missed opportunities in dealing with knowledge that people had and applying it to the kind of roles that Rideout was involved with.
"And I think it shows that the old way of dealing with child abuse allegations failed significantly large numbers of children and young people in the 70s and 80s and even the 90s.
"So I think it's important to learn the lessons from that and the lessons about sharing information, about following up on historic allegations and understanding what they meant."
One of Rideout's victims, June Potter, who waived her right to anonymity to speak to the BBC, helped the military police investigation in 1972.
She said: "We went out of our way to write statements and everything.
"I gave them names; they got in contact with them. He got away with it, and he shouldn't have done.
"I could have saved those kids, but no. He got away with it."