Solar panels installed on ambulance vehicles
15 May 2013

From the section

England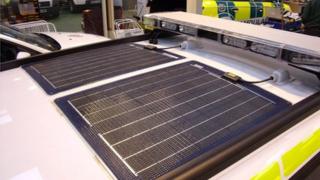 Ambulance service vehicles in the south of England have become the first in the country to be fitted with solar panels.
Thirty-six rapid response vehicles from the South Central Ambulance Service have been fitted with the panels following a nine-month trial last year.
The panels, on the single-crewed cars, help power life-saving equipment and will now be trialled on larger double-crewed ambulances.
The ambulances cover Buckinghamshire, Berkshire, Oxfordshire and Hampshire.
The solar panels charge the emergency vehicle's secondary battery which powers on-board equipment such as defibrillators, satellite navigations systems and communication devices.
Before, ambulances had to let their engines run idle while on standby between emergency calls in order to keep the equipment charged.
The idea has come from within the south ambulance service itself as its engineers sought ways of reducing its carbon footprint and fuel costs.
It cost £34,560 in total to fit the vehicles with the panels, but the service anticipates reducing its carbon dioxide emissions by 30.28 tonnes and its fuel costs by more than £50,000 over the next five years.
"To put it in perspective, one tonne of carbon dioxide can fuel six double-decker buses," said Brian Miller from South Central Ambulance Service.
"Reducing the carbon footprint is a national NHS objective and we identified at an early stage the potential of solar power.
"Significantly, it saves a vehicle having to be off the road for around three hours each year to have its secondary battery replaced.
"We're proud to pioneer the initiative as people are watching the outcome closely to see what the benefits are to patients."
Independent watchdog Healthwatch England is excited by the move.
Its Hampshire spokesperson said: "When you take into consideration the costs, we welcome an initiative which keeps emergency vehicles on the road for longer.
"Cost-effective ways which improve the service for patients have to be welcomed."