Air ambulance trust calls for night time flights
14 May 2013

From the section

England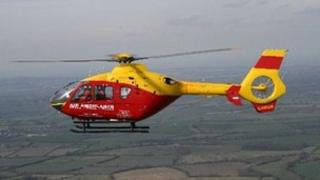 Thames Valley and Chiltern Air Ambulance Trust wants to start flying its rescue helicopter at night in a bid to save more lives.
The trust said it would be particularly important during the winter months when it is dark during rush-hour commuting times.
The helicopter is not currently equipped with sufficient lighting or night vision goggles, the trust said.
Four UK air ambulance charities already operate during the hours of darkness.
Mark McGeown, chief executive of the trust, said the details of the proposal were being finalised with its partner South Central Ambulance Service.
Clive Dickin, national director of the Association of Air Ambulances - which represents 14 of the UK's 19 air ambulance charities, said the service would need more pilots because they can each only fly a certain number of hours.
He added equipment was also expensive. Night vision kit and alterations to the craft to fit it would cost about £100,000.
The trust said it did not yet have a figure for how much the scheme would cost.