App offers armed forces help with mental health issues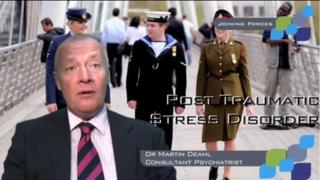 A smartphone app designed to help members of the armed forces deal with mental health issues has been launched by a health trust.
The app has information on 11 mental health problems affecting service personnel, including anxiety, post traumatic stress and depression.
Interactive videos deal with the symptoms of mental health problems.
The free app has been developed by the South Staffordshire and Shropshire Healthcare NHS Foundation Trust.
The trust leads a network of NHS trusts, known as Joining Forces, to provide inpatient mental health care to the armed forces.
The videos are fronted by Dr Martin Deahl, the lead psychiatrist for Joining Forces and a serving Territorial Army officer.
'Better understanding'
Dr Deahl said: "I could see the benefit that it would bring in terms of awareness, reducing stigma and encouraging people to seek help."
Martin Evans, an ex-serviceman who project managed the development of the app, said the response from those who have seen it has been "overwhelmingly positive".
"We hope it will dispel many myths about mental health issues and give an understanding of where to get help," he said.
The app has been endorsed by the Ministry of Defence (MoD) and the Royal College of Psychiatrists.
Capt John Sharpley, from the MoD's Joint Medical Command, described the app as "a major contribution to a better understanding of mental health".
Defence Minister Mark Francois said: "I am delighted that our service personnel are now able to access the best information and support on mental health at any time, anywhere.
"I hope this app will encourage more personnel to come forward with any mental health problems."