Cumbria County Council negotiates coalition deal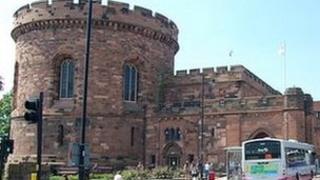 A leadership deal has been struck at Cumbria County Council after more than a week of negotiations.
Labour won the most seats in the local government elections, but failed to gain an overall majority.
The party has now joined forces with the Liberal Democrats and the council will have a Labour leader and Lib Dem deputy.
Six cabinet posts will be held by Labour councillors and the remaining four by their coalition partners.
The decision is expected to be formally approved at a full council meeting on Thursday.
'Fresh start'
Following the recent elections, Labour has 35 seats, the Conservatives 26, the Liberal Democrats 16, and there are seven independent councillors.
Stewart Young, leader of the Labour group, said: "One of the things that guided our negotiations was to try to create a stable administration.
"Between us we have 51 of the 84 members on the council, which hopefully will put us in better shape to tackle some of the difficult issues we have to face."
Jo Stephenson, group leader of the Liberal Democrats said: "This is a fresh start for the people of Cumbria."