Surrey museum's suffragette badge loan 'seized'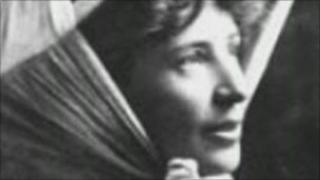 Memorabilia sent from Australia for an exhibition on Surrey's suffragette past has been held up on entry to the UK.
Epsom council said the item was seized on entry to the UK and the museum loan "had fallen victim to bureaucracy".
The Australian MP who sent the replica Women's Freedom League "Holloway" badge said officials in Coventry seized it because the stated value was above £30.
A Border Force spokesman said the item was wrongly labelled by the sender, but it had not been "seized".
The badge, sent by courier by Frances Bedford, is a replica of one given to Australian-born suffragette Muriel Matters, who lived in Hastings, Sussex, and served time in Holloway prison for her militant campaign.
'Act of goodwill'
Ms Bedford, a founder of the Muriel Matters Society, told Epsom council her staff tried to sort out the issue by confirming the badge was a museum piece on loan.
Epsom council, which is running an exhibition to mark the centenary of the death of suffragette Emily Davison who stepped in front of the king's horse in 1913 at Epsom Downs Racecourse, said the badge still had not been released on Monday.
Exhibition curator Irene Cockroft said: "We have tried to sort this out by confirming the badge is a museum piece and only on loan.
"It is intended that Frances Bedford MP will collect the item to take back to Australia at the end of the exhibition.
"It is so sad to see an act of international goodwill fall victim to bureaucracy."
The Border Force spokesman said: "The exporter did not identify the item as a temporary museum exhibit meaning that import duty and VAT appropriate to the declared value of the goods was applied.
"The item was not seized, but forwarded directly to the north-west London postal depot where it can be collected at any time.
"A letter was sent to the importer advising them of this action.
"If the council can provide appropriate evidence that the item is to form part of a museum exhibition they will not have to pay a fee."