South Central Ambulance Service recruits more rural first responders
13 May 2013

From the section

England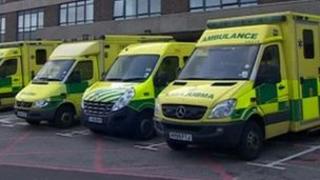 More volunteers need to be trained up to respond to medical emergencies, the ambulance service across the south of England has said.
The South Central Ambulance Service said it wants more Community First Responders (CFRs) in rural areas.
The service, which covers Berkshire, Buckinghamshire, Hampshire and Oxfordshire, currently has more than 1,100 CFRs across the region.
CFRs are trained in basic medical procedures and defibrillation.
Volunteers have attended more than 14,000 emergencies across the region so far this year, the South Central Ambulance Service has revealed.
It hopes to recruit more CFRs in rural areas who can reach casualties in critical situations quicker than paramedics can.
David Hamer, who co-ordinates the service, says CFRs use early intervention in life-threatening emergencies when required.
He said: "When the control room in Bicester, Oxfordshire receives a call, if it's deemed suitable for a CFR, they will go out initially.
"We'll send an ambulance to back them up and the advantage is a CFR will get to someone much quicker than we can."
Early intervention 'vital'
David Cleveland, from Burghfield Common, Berkshire was helped by a CFR when he had a cardiac arrest on Christmas Day, 2007.
"In less than seven minutes, they were at the house and a few minutes later my heart was restarted," he said.
"They had come from less than a mile away."
CFRs are provided with mobile phones which indicate to the ambulance service when they are available to be on and off-call.
"Having them available in situations like Mr Cleveland's is vital," said Mr Hamer.
"In cardiac arrests, a 14% chance of survival decreases every minute someone's not having basic life support and defibrillation."