Bristol's mayor questions 'primitive' incinerator plans
13 May 2013

From the section

England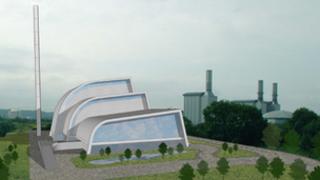 Bristol's mayor has criticised a £900m contract to incinerate waste from six west London boroughs at Severnside near the city calling it "primitive".
Sita UK will burn up to 300,000 tonnes of residual household waste each year from 1.4 million London residents.
"We don't want London dumping its waste here," said George Ferguson.
Sita said the contract would create hundreds of construction jobs and 53 permanent jobs at the Severnside Energy Recovery Centre (SERC).
SERC is also expected to produce enough electricity to power the equivalent of approximately 50,000 homes, Sita said.
Latest technology
Mr Ferguson said he would be looking into the contract "in terms of air quality" and the effect on Bristol.
A spokesperson for Sita UK said the new facility at Severnside would burn waste left over after recycling "under strictly controlled conditions" which "is much better than sending it to landfill."
Sita also invited Mr Ferguson to visit any of its existing energy-from-waste facilities to see for himself how the company uses "the latest technology to put waste to good use."
South Gloucestershire Council had turned down plans for the SERC but Sita appealed against the decision.
Communities Secretary Eric Pickles said it could go ahead, with waste coming from Brent, Ealing, Harrow, Hillingdon, Hounslow and Richmond upon Thames.
The plant is set to open in 2016 with rubbish transported to Severnside by rail.