Jobs boost for North East companies after £5.5m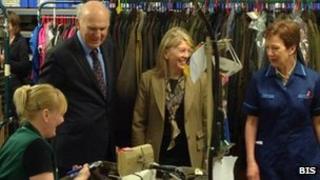 About 700 jobs are to be created in the north-east of England after three companies received more than £5m of government funding.
Gestamp Tallent Limited received £3.75m of funding, UK Steel Enterprise got £1.2m and Barbour was awarded £549,000.
Business Secretary Vince Cable visited Barbour, Gestamp Tallent Limited and UK Steel Enterprise on Monday to confirm last year's funding announcement.
The money will create over 700 new jobs and safeguard a further 450.
J Barbour & Sons in South Shields, which will use the money to expand the business, creating more than 130 jobs.
'Real boost'
Mr Cable was also given a tour of Gestamp Tallent Limited's new factory in Newton Aycliffe, which develops and manufactures products for the automotive industry.
The £3.75m from the Regional Growth Fund will enable the company to obtain robot welding assembly line, creating and safeguarding about 320 jobs.
UK Steel Enterprise in Redcar, said the £1.2m would be used for new premises and equipment.
Regional manager Simon Hamilton, said: "The money allows us to fund projects that otherwise wouldn't be able to go ahead, so it is giving a real boost to businesses."