UCA students give branding advice to independent retailers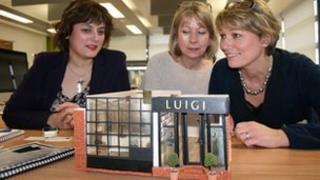 Students at a university in the South East have been helping independent businesses with free branding advice.
The students, from the University for the Creative Arts (UCA), which has campuses in Surrey and Kent, are studying for a fashion management and marketing degree.
A pilot project with a boutique in Haslemere resulted in the business implementing some of the ideas.
The university has now encouraged other retailers to contact them.
Students spent two months researching Luigi Boutique, carrying out visits to the shop, market research, customer feedback, consumer profiling and analysis of the local community and the competition.