Dartmoor's Ten Tors: Teenagers complete challenge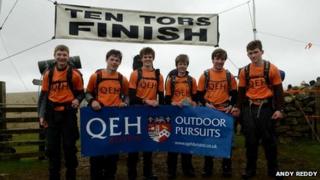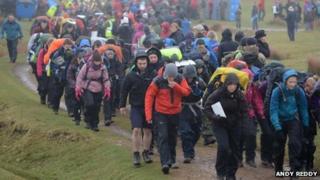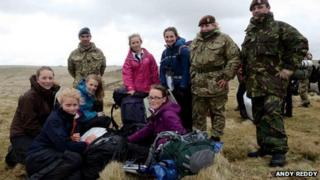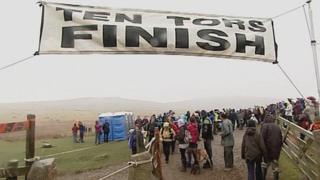 Teenagers taking part in the annual two-day Ten Tors challenge across Dartmoor in Devon have crossed the finish line.
The event involves young people aged between 14 and 19, in teams of six, trekking up to 55 miles (89km).
Camping overnight, the teams complete the challenge without adult guidance.
The first team to cross the finish line at about 09:30 BST was the Queen Elizabeth's Hospital School for Boys, from Bristol.
Blisters
Hector Leach-Clay, 16, said: "It feels absolutely incredible. I feel very, very sore but very, very happy.
"My feet are the worst. I think I must have at least eight or nine blisters.
"It was really, really hard, especially at the beginning of the first tor in driving rain - persistent for about two hours with the side winds - it was awful."
Fen Eastaugh, from Devon, was a member of Dartmoor Plodders, the first all-girls team to finish.
'Tough conditions'
The 15-year-old, who walked a 35-mile route, said: "I cannot even explain the emotions that you go through.
"There's happiness and then you want to cry...there's everything, it's amazing.
"To be the first girl team...that's what I was aiming for yesterday but I am so glad we did it, it's just incredible."
Brigadier Piers Hankinson, director of Ten Tors, said: "It's been really tough conditions this year.
"A lot of teams got disorientated early on.
"It's not a race, it's a challenge and the conditions out there have been very challenging."
Event organisers said more than 400 teenagers had dropped out of the event after starting on Saturday.
Troops involved in the challenge include members of the Army, the Territorial Army and the Royal Navy.
More than 2,400 teenagers took part in the challenge, with the majority from schools and youth groups in the south-west of England.