Tory MP Mark Simmonds would welcome Farage contest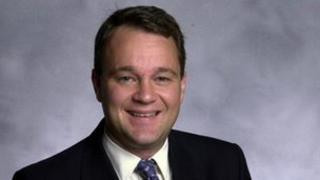 A Conservative MP whose constituency is a key target for UKIP has said he would welcome the opportunity to fight an election against Nigel Farage.
Foreign Office minister Mark Simmonds represents Boston and Skegness, where the UK Independence Party won a number of council seats in the 2013 local elections.
Some commentators suggest the UKIP leader may be tempted to stand in the Lincolnshire constituency in the 2015 general election.
Immigration is a concern for some voters in Boston and Skegness, due to the large number of migrant workers from EU countries who have come to the area in recent years.
In an interview for the Sunday Politics in Yorkshire and Lincolnshire, Mark Simmonds said: "I would be delighted if Nigel chose to fight Boston and Skegness, because it would a real opportunity for some of the challenges we face here to be put into the national domain."
'I'd now be MP'
Nigel Farage unsuccessfully stood against the Speaker of the House of Commons John Bercow in his Buckingham constituency in 2010.
UKIP activists say they are unaware of any plans to parachute Mr Farage into Boston and Skegness.
The constituency already has a UKIP candidate in place. Councillor Chris Pain said: "If you look at the figures from the county council elections, it's obvious that I would now be the MP for Boston and Skegness."
The local elections on 2 May resulted in UKIP gaining 16 seats on Lincolnshire County Council, making it the official opposition,
The result saw the Conservatives lose their overall majority on the Lincoln-based authority after 16 years in control.
Lincolnshire County Council is now governed by a coalition between the Conservatives, Liberal Democrats and independent councillors.