'Ewe-dini' the sheep escaped and turned up on a patio
11 May 2013

From the section

England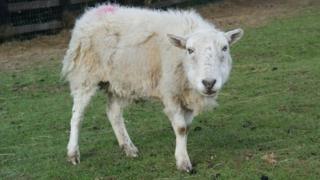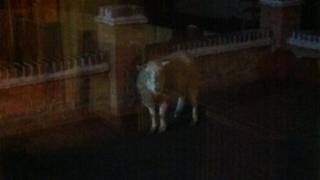 A sheep once sold for slaughter is looking for a new home after turning up on a couple's patio.
The female sheep, nicknamed Ewe-dini, may have escaped while on its way to the slaughterhouse, an animal welfare charity said.
Amy Bloore, who found the sheep on her patio in Derbyshire, said it looked "a bit manky" and was covered in dirt.
The owner could not be traced so the sheep was taken to Brinsley Animal Rescue in Nottinghamshire.
Miss Bloore and her boyfriend were watching television when a neighbour knocked on the door and said the sheep had gone in their back garden in Oakerthorpe.
"She was stood in our patio looking straight at us. I couldn't believe it," said Miss Bloore, 25.
"The sheep went down the steps into the grass area of our garden and stayed there, and the next door neighbour and myself shut it in so it couldn't get into the road."
The couple tried to trace the owner from the sheep's tag.
"It belonged to a farmer in Sheffield several years ago and the farmer sold it at a market in Bakewell, but it had not been re-tagged," she said.
'Quite hilarious'
"It looked as if she escaped, probably going for slaughter. They are saying she was on the back of a truck and got out and ran off."
The sheep stayed in the couple's garden for four days while they made "about 50 phone calls" trying to find someone to take it.
"In the first few days I thought it was quite hilarious having a sheep in the garden," said Miss Bloore.
"But it just got to the point where we were at our wits end. We couldn't have a sheep in our back garden as a pet."
The sheep currently lives at Brinsley Animal Rescue with two other sheep which had also been destined for slaughter.
Joe was found wandering the streets in Porthmadog, Wales, while Shaunie did not sell at market because he was born with a deformed leg.
All three sheep need permanent homes, and people are being asked to think of a proper name for the newest sheep on the rescue centre's Facebook page.