Conservative MPs mull over UKIP joint tickets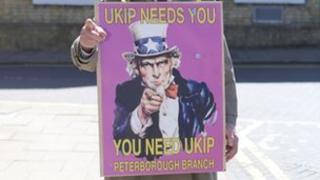 Could we see MPs from the east of England standing on a joint Conservative/UKIP ticket come the next election?
That intriguing prospect is being mulled over by several of our MPs as they ponder the impact of the local election results.
We have spoken to three Conservative MPs from the East who say they are seriously considering calling themselves Conservative/UKIP in 2015.
"There's still a lot of detail to work out but in an ideal world I would be selected first by my local association," one said.
"Then, because I also support the main aims of UKIP (to leave the EU and crack down on immigration), I would hope to also be endorsed by UKIP, which means they would not stand against me but help campaign for me."
Under consideration
The idea of Conservatives standing on a joint UKIP ticket was first floated by the Wellingborough MP Peter Bone. He told Sky News "There was a tremendous Conservative vote - there were the Conservatives that voted Conservative and the Conservatives who voted UKIP. The trick is to get us all together again."
Mr Bone told us he had no plans to stand as a joint candidate at the moment but two other MPs from the East have told us the matter is under consideration.
And a poll by Conservative Home found that a third of Tories favoured some kind of pact with UKIP.
The MPs point to the tie-up between the Labour and Co-operative Party. A number of Labour MPs (including Luton South's Gavin Shuker) are endorsed first by Labour and then by the Co-operative Party - "an organisation that is committed to supporting and representing co-operative principles".
It wouldn't be the first time that there had been "arrangements" between the Conservatives and other parties. In 1997 a number of Euro sceptic MPs negotiated agreements with the Referendum Party; in return it did not field candidates in certain seats, and a few behind-the-scenes deals were negotiated between Tories and UKIP at the last election.
Showing interest
On both occasions the MPs still called themselves Conservatives - there was no other name attached. The difference this time round would be sharing the ticket with UKIP in the title.
We understand that there have been conversations with UKIP about this and the party is showing interest.
There are still a number of sticking points. It would be interesting to be a fly on the wall at Conservative Party Headquarters, who could press local associations to look less favourably on the MPs concerned.
While UKIP, which is also taking votes from Labour, the Liberal Democrats and "none of the above" voters, may not want to see its brand "contaminated" by Conservatives.
All the Conservatives we've spoken to stress that it's still early days. But they also say something has to be done to combat the UKIP threat.