General Synod to rule on merged Diocese of Leeds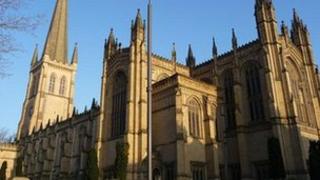 The Church of England's ruling body is to have the final say on whether three Yorkshire dioceses will merge.
A proposal to abolish the dioceses of Bradford, Wakefield and Ripon and Leeds was rejected by the Wakefield diocesan synod in March.
The Archbishop of York, Dr John Sentamu, said he had now decided to refer the matter to the General Synod, which will discuss the plan in July.
Dr Sentamu said the body would hear all arguments before making a decision.
He said: "Having listened carefully to all the submissions made during the consultation process, I know that there are strong views about how we take forward this diocesan reorganisation.
"However, it is clear that what must be at the centre is our mission to best serve people's need wherever they live.
"It does not follow from my decision to refer this matter that the draft scheme will be approved... the General Synod will be able to form its own view and hear and assess the arguments that will no doubt be put to it from a range of perspectives."