Sham marriage raids: Ten people arrested
9 May 2013

From the section

England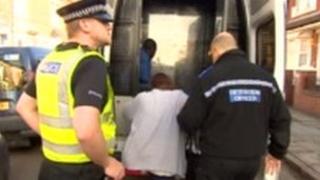 Ten people have been arrested as part of a nationwide operation to target sham marriages.
About 40 officers from the Home Office immigration team carried out early-morning raids in Leicester, Loughborough, London and Peterborough.
About 20 weddings involving African nationals seeking British residency rights are being investigated.
Immigration officers had been tipped off by staff at the Leicester Register Office following a suspicious wedding.
The raids in Leicester took place at addresses in Belgrave, Highfields and Weston Park.
Other raids were at one address in Loughborough and Peterborough and two in London.
'Not victimless crime'
The 10 people arrested - both men and women - are Portuguese, Nigerian and Irish nationals. They were held on suspicion of conspiracy to breach immigration laws.
They are suspected of involvement in an organised crime group believed to have been arranging fake marriages between Portuguese and African nationals.
Immigration inspector Andy Radcliffe said officers had been collecting evidence for about two years.
He said: "From the initial report we built up a picture of people who have been suspected of organising the sham marriages and the beneficiaries, and it has culminated in the arrests of those believed to be involved.
"The Home Office is taking tough action on the organisers of sham marriages. It is not a victimless crime but it is organised criminality and people are making a lot of money out of it."
Mr Radcliffe said the costs of each marriage varied but people often paid between £5,000 and £10,000 for the wedding and arrangement of an application to remain in the UK.