William Reddaway starts epic 2,500 horseback journey
11 May 2013

From the section

England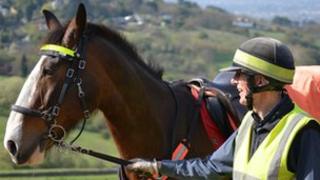 A retired manager is to ride his horse 2,500 miles around the UK and visit 30 cathedrals to raise money for charity.
William Reddaway will set off from Farncombe Estate on the Worcestershire/Gloucestershire border and hopes to raise £250,000 - £100 per mile - for two charities.
He said he will rely on friends and contacts to put him and horse Strider up during their seven-month journey.
His arrival in each town will be heralded on his trumpet, he said.
"I wanted to do a circular route and I thought around four corners of England would be fun," he said.
'Bad at it'
"If you want to raise a lot of money for charity then you need to be visible and you are if you go through lots of towns on a horse, and a hundred years ago all these towns were heaving with horses.
"I chose cathedrals because they are where they were 700-800 years ago and part of the towns."
Mr Reddaway, from Gloucestershire, will travel north on his horse called Strider, through Hereford, Worcester, Coventry and Lichfield in the West Midlands, visiting numerous towns before reaching his first corner in Bowness-on-Solway in Cumbria.
He will then travel across to Berwick-upon-Tweed, down to North Foreland in Kent and over to Lands End before finishing his trip at Farncombe Estate.
"I am taking one change of clothes, one sleeping bag and mat and Strider's first aid kit, grooming kit, water, bucket and feed and some maps," he added.
"I will be trumpeting my arrival in each town but I am so bad at it I will be embarrassed but I'll get over it."
The money he raises will go to the Wormwood Scrubs Pony Centre and the Family Holiday Association which helps provide short breaks for the needy families.