Brighton footballers deny sex assault charges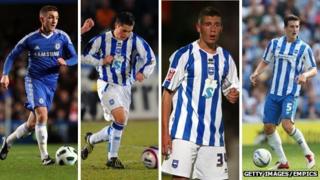 A young woman told a court she felt angry, upset and humiliated after discovering photos of her allegedly being abused by Brighton footballers.
The woman told the Old Bailey she recalled nothing of the incident and felt ashamed when she saw the images.
Brighton players Anton Rodgers, 20, George Barker, 21, Lewis Dunk, 21, and former team-mate Steve Cook, 22, deny sexually assaulting her in a hotel.
Mr Rodgers, Mr Barker and Mr Cook also deny voyeurism.
Mr Dunk was cleared of that charge at an earlier trial.
Judge Christopher Moss told jurors they should discount anything they may have heard about the first trial, which was abandoned after jurors failed to reach verdicts on the other charges.
Dress pulled down
Richard Barton, prosecuting, said the four - who all played for Brighton at the time - met the woman in a club, after a match in July 2011.
He told the court the woman woke up the following morning in bed with Mr Rodgers in a hotel room where another player was also asleep.
Her bra had been removed and the top of her dress pulled down.
Mr Barton said she asked to use Mr Rodgers' mobile phone and began scrolling through some of the photographs on it.
"The woman was lying on a bed, clearly not awake. In some of them there were semi-naked men around her.
'Privileged position'
"Then she realised to her horror the unconscious woman in the pink dress was herself."
Mr Barton said the actions were those of a group of arrogant young men, and he told the jury: "They believed that as a result of their privileged position as professional footballers, they could do this to this young woman and she would not come forward and say what happened."
The woman, who was 19 at the time, told the court she did not report the incidents until six months later when another player threatened to upload a video on to the internet.
Mr Cook, who was on Brighton and Hove Albion's books at the time of the alleged assault, signed for Bournemouth last year.
Mr Rodgers is the son of Liverpool manager Brendan Rodgers, who was among eight members of the players' families in the public gallery at the start of the trial.
The case continues.