Stuart Hall: More alleged victims to sue over abuse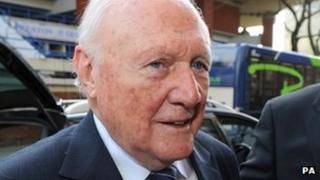 Twelve victims of broadcaster Stuart Hall are to sue over his sexual abuse, some of which allegedly happened on BBC premises, their solicitor has said.
Hall, 83, of Wilmslow, Cheshire, pleaded guilty at Preston Crown Court to 14 offences of indecently assaulting 13 girls between 1967 and 1985.
Manchester law firm Pannone said it was representing victims to pursue civil cases over injuries and harm suffered.
Partner Alan Collins said the BBC may be included in the legal action.
"From the evidence so far, some of the abuse took place on BBC premises but that is not to say the BBC are liable," he said.
Mr Collins said proceedings were in the "very early stages" and he would be interviewing alleged victims over the next few weeks.
He said he would be investigating the evidence to assess whether the BBC had "vicarious liability", which means responsibility for the "misdeeds of Mr Hall as a BBC employee".
"I will be looking carefully at what Stuart Hall was supposed to be doing at the time the abuse took place."
Mr Collins said he could not confirm whether all the victims seeking compensation formed part of the criminal court case.
A BBC spokesperson said: "The BBC has made it clear that it is appalled by the disgraceful actions of Stuart Hall and we would like to express our sympathy for his victims.
"We cannot however comment on specific current or future legal cases that may be related to this matter."
'Spurious' claims
The BBC has announced it is to hold a "freestanding investigation" into how broadcaster Stuart Hall was able to abuse girls while working at the corporation.
Dame Janet Smith is currently reviewing the culture and practices of the BBC following the Jimmy Savile scandal.
But a separate inquiry feeding into her report will be led by a different person because she knows someone who has been named in press reports in relation to Hall.
Hall was initially arrested in December and made a statement describing the claims as "pernicious, callous, cruel and above all spurious".
But last week it emerged that he had admitted indecently assaulting girls, the youngest of which was aged nine. He will be sentenced on 17 June.
Hall has been a familiar face and voice in British broadcasting for half a century, and was appointed OBE in the 2012 New Year Honours.