Cumbria County Council negotiates hung authority's future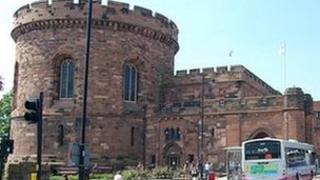 Negotiations to determine who will run Cumbria County Council for the next four years are due to start.
None of the parties won enough seats in last week's local government election to take overall control.
Labour has 35 seats, the Conservatives 26, the Liberal Democrats 16, and there are seven independent councillors.
The leader of the Labour group described the process of putting together a coalition as "slightly more complicated than electing a pope".
Stewart Young said: "You only have to elect one person as pope.
"We have to come together to form a cabinet with 10 people on it and balance different political parties."
'Important views'
With 16 seats, the Liberal Democrats could hold the balance of power.
Group leader Ian Stewart said: "If given instruction to sit down with other groups on a formal basis, then we can have a discussion."
James Airy, Conservative group leader, said: "Somebody has got to form an administration of unity to govern Cumbria for the future.
"We need to recognise there are seven independents out there that have important views as well."
Cumbria has been a hung council for decades, and was most recently run by a Conservative and Labour administration.