Broadcaster Stuart Hall: Some abuse victims to sue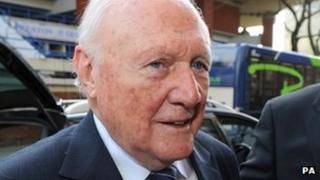 Victims of the veteran broadcaster Stuart Hall are to sue for compensation after he admitted indecently assaulting 13 girls, one aged nine.
The 83-year-old of Wilmslow, Cheshire, pleaded guilty at Preston Crown Court to 14 offences between 1967 and 1985.
The Manchester law firm Pannone said it had been instructed by a number of Hall's victims to pursue civil cases in relation to injuries and harm suffered.
Partner Alan Collins said his company was representing six victims.
Some of these formed part of the court case at Preston Crown Court on Thursday, he said.
Mr Collins said he would also be looking into whether any of the offences took place on BBC premises.
Hall was initially arrested in December and made a statement describing the claims as "pernicious, callous, cruel and above all spurious".
He has been a familiar face and voice in British broadcasting for half a century, and was appointed OBE in the 2012 New Year Honours.
Hall will be sentenced on 17 June.