Mother left 'empty' by loss of daughter after long wait for ambulance
2 May 2013

From the section

England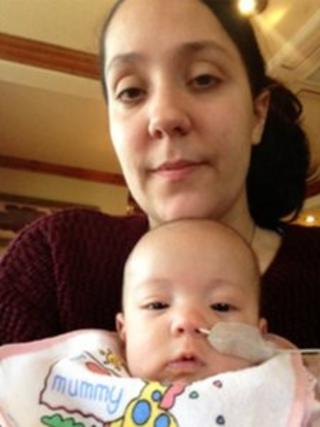 A mother whose 17-week-old daughter died after waiting "too long" for an ambulance says she feels "empty" and "shattered inside" by the loss.
Amy Carter says it took 26 minutes for an ambulance to reach her in Thetford, Norfolk, in March to help her daughter Bella Hellings, who had had a fit.
She was taken to West Suffolk Hospital in Bury St Edmunds but later died.
The East of England Ambulance Service said it was investigating the incident and could not comment further.
A spokesperson said the service had written to Ms Carter following the incident on 11 March and had interviewed all staff involved.
National guidelines state that an emergency response vehicle should reach 75% of patients deemed to be in a life threatening condition within eight minutes.
Ms Carter said she had dialled 999 after Bella had a fit and stopped breathing.
"I stayed on the phone to them all the time and had to wait for them to get there," she said.
"I can remember shouting at the people on the phone, asking them where they were."
'Ambulance got lost'
A first response unit turned up "a minute or two" before the ambulance, Ms Carter said.
"I went in the ambulance with them," she said.
"They went to Bury, West Suffolk, but got lost on the way. They weren't sure where they were going.
"They were following the sat-nav but it was sending them the wrong way."
When they got to the hospital, Ms Carter said she was escorted to the relatives' room while Bella was taken for treatment.
"I didn't see her again until after they said they couldn't do anything," she said.
Ms Carter said she had sought legal advice in the hope of preventing the same thing happening to other families.
"I couldn't let anyone else go through this," she said.
"I feel sorry for the ambulance service if anything because they're getting the blame.
"It's not their fault. It's because they haven't got enough staff and enough money that they're like it."
An inquest into Bella's death has been opened and adjourned.