Essex PC Ian Dibell given posthumous bravery award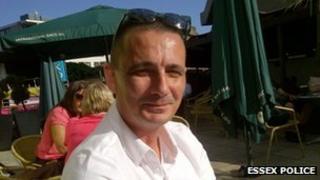 An Essex police officer shot dead while tackling a gunman has been given a posthumous bravery award by his force.
PC Ian Dibell, 41, was killed as he tried to stop a man firing a revolver at two people near his home in Clacton.
The High Commendation recognises that he intervened in an "extremely dangerous and volatile incident" while unarmed and off-duty, police said.
"The sacrifice he made... will never be forgotten," said Chief Constable Jim Barker-McCardle.
'Brave and selfless'
The award was the greatest honour Mr Barker-McCardle could bestow and several other local and national awards were still being considered, police added.
Last month, coroner Caroline Beasley-Murray said the father of two should be given a medal for gallantry.
PC Dibell had come to the aid of Trevor Marshall and his girlfriend Katarzyna Karolak in a dispute in Fairlop Close, Clacton, on 9 July 2012.
He was shot in the chest by 64-year-old Peter Reeve, whose body was found the following morning in the grounds of All Saints' Church, Writtle.
An inquest in April returned verdicts of unlawful killing for PC Dibell and suicide for Peter Reeve.
Mr Barker-McCardle added: "Ian's brave and selfless actions demonstrate his only motivation was to save lives, regardless of any personal risk.
"At the time of the incident, there were several members of the public present who might have been wounded or killed if Ian had not intervened as he did.
"Ian's brave, courageous and selfless actions no doubt saved others from harm.
"He consciously stepped into danger to protect others and tragically paid the ultimate price. His fearless actions were in the best traditions of policing.
"The sacrifice he made for the safety of others will never be forgotten."