Chris Grayling MP's fears for Epsom and St Helier hospitals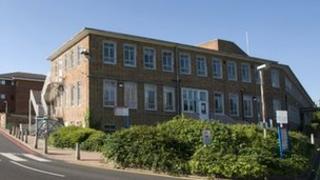 Proposals to reorganise medical services may lead to "cannibalisation" of services in Surrey to bolster three south London hospitals, an MP said.
Conservative MP Chris Grayling urged NHS bosses to "step back" from plans, which could see the downgrade of Epsom Hospital A&E and maternity.
Epsom is one of five hospitals being reorganised under the Better Services Better Value (BSBV) review.
BSBV medical director Dr Marylyn Plant said it was about improving care.
The proposal is for three hospitals with A&E and maternity units across five sites - Epsom, St Helier in Sutton, Kingston, Croydon and St George's at Tooting.
'Extra pressure'
Urgent care, day surgery and outpatient services would be retained at all five.
In an open letter Mr Grayling, MP for Epsom and Ewell, said he feared the review would cannibalise Epsom and St Helier, leaving the area denuded of services.
He said it would put extra pressure on other Surrey hospitals such as East Surrey, St Peter's and Guildford with Epsom patients choosing to use those rather than St George's.
He expected the review's findings to be published on Friday.
Conservative MP for neighbouring Mole Valley, Sir Paul Beresford, said he was "very worried".
"It sounds as though there is going to be a diminishment of Epsom Hospital," he said.
"If people are stranded in the middle of a desert in the point of view of hospitals, any attempt to get anywhere will take considerable time.
"I would use maternity as a classic example, and it is going to mean that people die."
'Move services around'
Dr Plant said BSBV was about improving quality of care that was currently "not what we would like it to be".
"It is necessary to reorganise services and move them around and consolidate some of them on fewer sites in order to deliver the kind of 21st century care the population deserves," she said.
"I don't believe that a large number of people will be asked to travel from Epsom to St Georges at all.
"The ones that do will be taken there in a blue light ambulance because their life depends on being able to access highly specialist services that will only be available at St George's.
"There will be 'downgraded' services perhaps in that they won't be providing care for the very, very urgent and most acute cases, but the vast majority of people can still attend A&E under our proposal at Epsom and St Helier."