Selby swing bridge closure postponed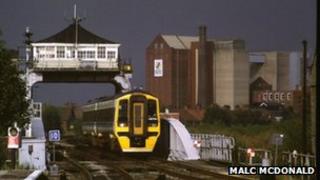 Repair work on an ageing railway bridge in North Yorkshire has been postponed to keep train services running following a landslip on another line.
Selby swing bridge was due to have closed between July and September.
But Network Rail needs to keep the line open to allow Hull services to operate after a collapsed spoil heap closed an alternative route.
A spokesman said simultaneous repairs to both lines would "put too much strain on the network".
About one million cubic metres of a collapsed spoil heap at Hatfield Colliery, South Yorkshire, pushed the track upwards forcing the line to shut.
The landslip was in February and the line may not be repaired until September.
Although the Selby bridge project has been deferred, Network Rail said maintenance work would be carried out to keep it "safe and reliable".
Phil Verster, route managing director for Network Rail, said: "It remains true that the Selby swing bridge is showing its age."
Similar work on three other bridges on the route to Hull in East Yorkshire would also be deferred.
Mr Verster said passengers would get 12 weeks notice of any rescheduled work on the bridges.
"I fully appreciate the importance of restoring a direct rail service to Cleethorpes, Scunthorpe, Goole and other places affected by the Hatfield landslip," he added.