Can UKIP make big breakthrough in local election push?
19 April 2013

From the section

England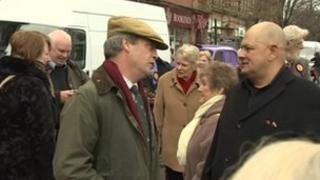 They've become a force in European elections, and have been getting decent poll ratings for some time.
But in May's local elections UKIP would love to make the kind of breakthrough that could bury accusations it's a single-issue party.
And judging by weight of candidates, it's certainly putting in the effort.
Potential councillors
UKIP has never fielded as many potential councillors, and it's pushing in places where its presence has been limited in the past.
Four years ago, the party only managed to field four candidates in Cumbria.
Now it has selected 52 to fight for seats on the county council - fewer than Labour and the Conservatives but more than the Liberal Democrats.
The local party in Carlisle alone says it has seen a 42% rise in membership.
Michael Owen, the local chair, believes that reflects dissatisfaction with the established parties.
He said: "Certainly we already have recruited some disillusioned Conservatives, and I believe we'll be seeing a lot more who are fed up with the current leadership.
"But I'm also very hopeful that we will continue to recruit people from other parties, and people who've never been politically active before.
"It really is time for a change. We have a full local manifesto and it is fully costed."
UKIP surge
The Conservatives are currently the largest party on the council, and perhaps have most to fear from a UKIP surge.
But their deputy leader Councillor James Airey believes his party needs to campaign on its record.
He said: "I'm not worried but we mustn't underestimate UKIP. They've done well to find 52 candidates.
"But the message to my candidates and council colleagues is to get out there and campaign on local issues, on the issues they've worked hard on.
"This is a Cumbrian election, not a national election, and so we'll be fighting on our record of the last four years, and telling people what we can offer in the next four."
UKIP though will also pose a challenge for the Lib Dems, as it seems to have replaced them as the catch-all protest party.
But their group leader Councillor Ian Stewart believes they don't provide a viable alternative.
He said: "We're perfectly capable of shaking up Cumbria County Council. A vote for the Lib Dems is about listening to people and being more local.
"I've listened to some of the things UKIP have said, and I think people need to be careful.
"If you look at what they have to offer, they want to introduce massive cuts and take us back to 1974 spending levels.
"I think the people of Cumbria would find that totally unacceptable."
Taken seriously
Labour of course may stand to benefit if UKIP does takes votes from the Conservatives. But as leader Nigel Farage has said he wants to poach their voters too, they're not dismissing the threat.
Group leader Councillor Stewart Young said: "Clearly they have to be taken seriously. They seem to have a bit of money behind them.
"My assessment is they will take votes from all parties because they are a repository for protest votes, but they are more likely to attract the right wing of the Conservative electorate.
"But with Labour you can trust us to protect vital front line services and the most vulnerable and do the best for the whole Cumbrian community."
Cumbrian voters will have other choices too. More than 30 Greens are standing, as are 18 independents.
The BNP and the Trade Union and Socialist Alliance also both have a handful of candidates.
But UKIP believes it can offer more than just protest, and perhaps it's testament to the party's rise that the more established parties are looking to address that threat.
Marginal seats
It's unlikely the party will win a host of seats in Cumbria this time, but at a time when some of the other parties are struggling to attract members, its growth is a sign that something's happening.
And I suspect there is a longer game. UKIP knows that hard work on the ground may lead to gains at next year's European elections.
Beyond that it may also worry Conservative MPs in marginal seats.
In Cumbria, just a few thousand UKIP defectors could cost the Tories the vital Carlisle constituency.
The big breakthrough may not be here yet, but UKIP are undoubtedly posing a new problem for the older parties.