Gatwick: Airport Commission 'should not be swayed' by hub calls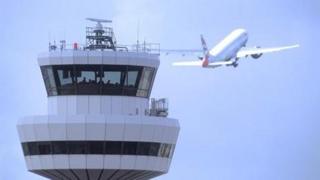 The Airports Commission "should not be swayed" by calls for an expanded or new hub airport, Gatwick Airport has said.
Gatwick is calling for competition to be allowed in the aviation industry to deliver more flights between the UK and the rest of the world.
It thinks the government commission should recommend "making the most of existing capacity".
Heathrow said having a successful hub was good for passengers, business and the UK.
Gatwick made the statements in response to the Airports Commission's connectivity and economy paper.
'Importance exaggerated'
The commission is examining airport capacity in London, while taking "account of the national, regional and local implications of any proposals".
A Gatwick spokesman said with new direct links to Moscow and Jakarta announced, it served "half the world's fastest-growing economies".
It said the commission "should not accept Heathrow's argument that a traditional hub airport is the only way to retain the UK's existing links to the world".
The spokesman added: "Gatwick's view is that the commission should recommend making the most of existing capacity in the short to medium term, and not be swayed by demands for an expanded or new hub airport in order to improve connections with emerging markets.
"IATA [International Air Transport Association] figures show that the majority (93%) of journeys using London airports are for passengers that either begin their journey from our airports or fly to them as a final destination.
"As a result, at only 7% of journeys, the importance of 'transfer' passengers is exaggerated."
'Rising prices'
Stewart Wingate, the airport's CEO, said: "It is true we will need additional capacity in the future.
"Without it, connectivity will be severely affected and the passenger experience will be impacted by unacceptable delays and rising prices."
However, he claimed that suggestions hubs were the answer were "misleading", because evidence showed that in the London market, most passengers began and ended their journeys in the capital.
A Heathrow spokesman said: "Hub airports use transfer passengers to support long-haul routes which otherwise wouldn't be viable.
"That's why Heathrow flies to more than 70 long-haul destinations which Gatwick doesn't.
"Having a successful hub is good for passengers, good for business and good for the UK."
In February, London mayor Boris Johnson announced he had appointed a team of experts to help develop his hub airport plans.
Mr Johnson opposes a third runway at Heathrow and supports the idea of an airport in the Thames Estuary or an expansion at Stansted.