Fuller family deaths: Aunt's 'sleepless nights'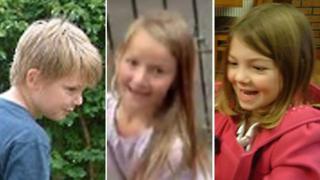 Describing her nieces and nephew, Ceri Fuller's sister in-law paints a picture of three "normal", happy children.
The girls - Rebecca, eight, and Charlotte, seven - enjoyed arts and crafts, dressing up and putting on plays, while Sam, 12, was a "tech head" who loved anything to do with video games.
His aunt, Joanna Ballard, said he was a "cheeky chappy", but also proudly filled the role of the "protective older brother".
She added Charlotte - known as Charlie - was "like something out of a Disney movie" with so much love for everyone around her.
They lived with their mother Ruth and father Ceri in the small Gloucestershire village of Milkwall, near Coleford, just west of the Forest of Dean.
Mrs Ballard and her family lived six miles away in Yorkley and the two families would come together for Sunday lunches. Their children were "as close as cousins could be".
'Sleepless nights'
But this was all cruelly ripped apart in June last year when Ceri Fuller, 35, took the three children to a wooded beauty spot at Pontesbury Hill in Shropshire where he stabbed them to death before taking his own life.
"None of us understand it, none of us understand any of it," Mrs Ballard said.
"There's been a lot of sleepless nights from our eldest. For our middle child, who's six and was particularly close to Sam and idolised him, he's coming to terms with it, with help.
"We were particularly close with them as a family and they would all come over and stay here with us for the weekends. They would all pile into one bedroom, our kids and their kids, so there would be six of them in one bedroom.
"They were all like brothers and sisters together, they were as close as cousins could be."
Mrs Ballard's husband, Nick, remembers lining the six children up at the front door in the morning ready for school "and marching them out, like a scene out of the Sound of Music".
"It doesn't get easier, you don't think of them any less, you don't miss them any less, but you do get more used to feeling that way," Mrs Ballard said.
'Human tragedy'
The discovery of the four bodies also sent shock waves through the community in which the families lived.
Flowers, tributes, candles and soft toys were placed outside the family's semi-detached house and a memorial was held following a private funeral.
Reverend Alan Wearmouth, of the Mid-Wyedean churches based in Coleford, said that during the days immediately after the news there was a "huge sense of numbness".
"The community was greatly shocked, there was a huge outpouring of sympathy," he said.
"People couldn't help but think of the children and people were thinking of the father and above all Mrs Fuller - the mother."
As the community searched for answers Mr Wearmouth said they looked to each other for support.
"I thought the reaction was generally admirable. If they needed to talk, they talked, but they talked to people they knew, their friends," Mr Wearmouth said.
The two girls attended St John's Church of England primary school in Coleford, while Sam was a pupil at Lakers School, also in the town.
Their teachers had the difficult job of explaining to the children's school friends something which they were struggling to understand themselves.
"The children were devastated when they heard the news, because their friends were no longer there," Mr Wearmouth said.
"The staff were extremely upset, some of the staff were extremely close to the children and that, I expect, will stay with them for the rest of their lives."
Nine months after the family deaths the community is coming to terms with what happened.
"The community will not forget, it is there and somewhat raw on occasions, but the community copes as communities do, by helping each other," Mr Wearmouth added.
"It will be forgotten as a cause celebre. It will be remembered as a human tragedy."