River Thames lock keepers' cottages review extended
17 April 2013

From the section

England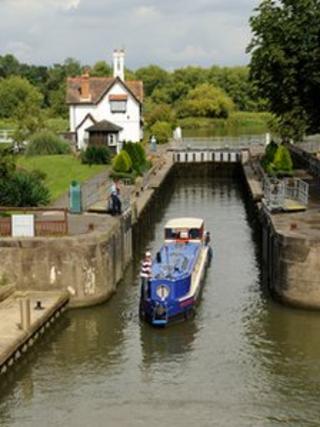 A review into the future of lock keepers' cottages, which could see some sold and others put up for rent, has been extended.
The Environment Agency (EA) was forced into a U-turn after announcing in 2008 it would sell or let out a third of its cottages along the River Thames.
Campaigners argued safety on the river could be jeopardised.
Five vacant cottages were rented out as part of a trial with a study into their operation now extended to March 2014.
Keepers live in the lock houses and carry out a variety of tasks, including opening lock gates and responding to emergencies.
Flood-risk fear
Cottages are dotted on the river through Gloucestershire, Wiltshire, Oxfordshire, Berkshire, Buckinghamshire and Surrey.
The EA proposed the sell-off in 2008 in order to cut costs.
The idea was later scrapped after concerns were raised by keepers, MPs and river users that there would be slower responses to incidents and an increased flooding risk.
A joint study group was set up alongside involving the Thames User Group (TUG) and the EA to monitor the cottage rental scheme.
Michael Shefras, co-ordinator of TUG, said: "Whilst we are concentrating on a small number of locks to get a proper understanding of the financials covering these locks, we are [aware] of the many social and practical reasons to have the lock houses and our study will not ignore any of the sites.
"The extension of twelve months will give us room to properly assess the complete scene."
Simon Hughes, EA manager, said: "We agreed that more information was needed before any conclusions could be drawn on the future of our lock sites.
"We believe this is a sensible and prudent move that balances our need to stabilise our funding position with the concerns of river users."