Washed up Yorkshire seabirds released into the wild
16 April 2013

From the section

England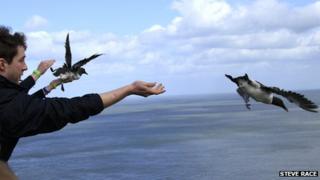 Seven seabirds that were washed up on Yorkshire beaches have been released back into the wild.
Five guillemots, a razorbill and a puffin were found exhausted and starving last month because of severe weather conditions in the North Sea.
The seabirds were released from Bempton Cliffs after spending time recovering at Scarborough's Sea Life Centre.
About 1,000 seabirds had died, of which 500 were puffins, the Royal Society for the Protection of Birds (RSPB) said.
The seven seabirds were among a dozen that had been rescued from beaches in Bridlington, Filey and Scarborough.
Most of them have now been released. One gannet and a guillemot are still recovering.
'On the brink'
Keith Clarkson, regional reserves manager for the RSPB, said: "Most of them went out to sea, which is what we expected. It couldn't have gone better.
"Everyone's delighted. A lot of work was involved to get them back to good health.
"When they were first found they were massively exhausted and underweight. The puffin was on the brink of death and we didn't think it would survive.
"But the team at the Sea Life Centre looked after them, got their muscles working again and rehydrated them."
He said the seabirds were ringed before they were released in order to keep track of them.
The two remaining birds would be released once they reached their full body weights, the RSPB said.