RSPCA fight to save stricken seabirds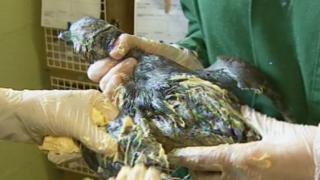 Not all of the birds brought into the RSPCA's West Hatch centre in Somerset will make it.
Of the 172 birds delivered to the site since last Wednesday, 62 have been destroyed - victims of a gooey, sticky substance in the sea off south east Cornwall.
But as another van load of 44 birds arrives, the work continues to give as many as possible a fighting chance.
It is only up close that it is possible to fully understand the plight of the birds, their feathers stuck fast as if they have been dropped in a container of glue.
West Hatch manager Peter Venn said: "If you hold a bird, it almost takes your glove off with it, it's so sticky.
"It completely immobilises the birds."
The substance was confirmed by experts at Plymouth University as polyisobutene (PIB), used in oil additives, sealants and chewing gum.
The Maritime and Coastguard Agency said it had been unable to trace the source of the spill, which could have come from a legal discharge into the sea by a tanker.
It is the second time this year that a large number of birds have been washed up on the south coast, stricken by a gluey substance.
West Hatch worker Mark Sinclair: "This group of birds seem worse than the last group in February."
He has been using the RSPCA's tried and tested practice of covering the birds in margarine, which breaks down the sticky substance on the birds.
"We are having to put more margarine on and therefore more detergent to get that off," he said.
"But it is working."
The same principle works on bats stuck on fly paper, another job for the West Hatch animal rescue crew.
Thanks to a free consignment of margarine from Waitrose, the team are not short of the bird, and bat, releasing agent.
Squawking loudly
West Hatch near Taunton has a team a full-time team of 18 staff and more than 20 volunteers who work 365 days a year to care for injured wildlife.
Every year it sees about 3-4,000 animals, from rodents to grey seals.
It is one of four RSPCA wildlife centres covering England and Wales and marks its 50th birthday this year.
In the last incident of this type in February, birds were being brought in mainly from Dorset. Now it is south east Cornwall that appears to have been worst affected.
The Maritime and Coastguard Agency said it had been unable to trace the source of the spill, but the Devon Wildlife Trust said the pollutant could even be material from the same ship, affecting the coast once more due to a change in wind direction.
Guillemots, of which there are large colonies off Brixham in Devon and off Portland in Dorset, have been worst affected, but gannets, a fulmar and an Arctic skua have also been brought in.
The birds which are washed ashore alive are first given rehydration fluids and because they have never been handled, squawk loudly in protest.
Then they are cleaned, first with margarine and then with detergent to get rid of the margarine.
After that they will be monitored for a few weeks while they replenish the natural oils in their feathers through preening.
A pool is the next step, where they will be tested for their swimming, diving and floating skills before being released.
Every day they will also be given an antibiotic to keep away respiratory tract problems caused by dust on land that they do not face in the sea.
The RSPB is seeking support for PIB to be reclassified by the International Maritime Organisation to prohibit discharges at sea in routine tank washing operations.
Mr Venn said: "It's immensely gratifying seeing the birds go through to release.
"But it is sad that we are having to deal with this problem in the first place."