Hedgehog hospital success: Fit-again animals released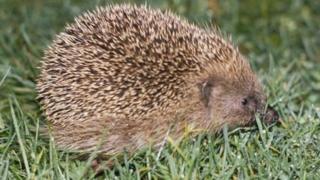 More than 70 once-sickly hedgehogs from Cambridgeshire are being released back into the wild under a programme aimed at increasing diminishing numbers.
They spent the winter being nursed back to health at Shepreth Wildlife Conservation Charity's hospital.
The hogs will be released in Suffolk, Cambridgeshire and Hertfordshire.
The tagged animals will be monitored to assess their health. A "prototype GPS backpack" could be attached to other hedgehogs released later this year.
The charity is currently working with researchers and wildlife vets to collate a nationwide database of hedgehog release success and health information, which could aid future releases across the UK.
'Hog-friendly'
The 76 hedgehogs taking part in the programme were all brought in to the hedgehog hospital, which opened in November, by members of the public.
Their release has been delayed by more than six weeks because of the cold weather.
However, now the healthy hedgehogs will be taken to sites identified specifically as being "hog-friendly".
Rebecca Willers, curator of Shepreth Wildlife Park, said the charity had worked closely with countryside organisations, local colleges and the National Trust to find the best places for the animals to thrive.
"The conservation charity doesn't want the care they have taken looking after the hedgehogs to be in vain," she said.
Dr John Lewis, from Wildlife Vets International, said: "This comprehensive approach adopted by the SWCC is putting science at the heart of hedgehog rehabilitation.
"It is absolutely essential if we are to advance our knowledge to the long-term benefit of the species."
Staff at Shepreth have also worked closely with Dr David Wallis of Moulton College in Northamptonshire, who is "putting together the final touches of a prototype GPS backpack".
It is hoped the tiny equipment can be attached to several hedgehogs later this year.
Data collected would provide "essential scientific evidence of the unknown survival and breeding success rates of hedgehogs rehabilitated at the centre", the charity said.
Members of the public are being asked to help monitor the latest release.
If people see a blue-tagged hedgehog they can report the sighting and location on the charity's website.